DISCOVER THE WORLD OF TALENT ACQUISITION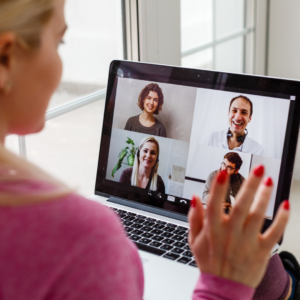 Pour une grande majorité d'entreprise, l'objectif en matière de talents est de garder ces derniers le plus longtemps possible. Le contexte sanitaire renforce l'enjeu de cette problématique car il est d'autant plus difficile de gérer des employés à distance, pendant que d'autres sont au bureau par exemple. Chacun a dû s'adapter au télétravail et a réagi différemment à cette nouvelle manière de collaborer. Certains y ont trouvé plus d'avantages que d'inconvénients et réussissent à travailler comme avant, voire même à être plus performant. Cependant, cela peut devenir barbant pour tout le monde et il faut trouver des solutions pour garder vos employés, entretenir le lien avec eux en les gérant d'une autre manière.
Pour pallier ce problème, je vous suggère de suivre les conseils ci-dessous :
Planifier des visioconférences régulièrement et dès le début du mois !
En temps normal, vous voyez vos collègues chaque jour au bureau et vous organisez des réunions selon les besoins. En travaillant avec des salariés à distance, il est nécessaire de maintenir le lien en organisant des visioconférences régulièrement. Par exemple, vous pouvez organiser un brief au début de la semaine et un débrief pour la clôturer ! Il est également important de planifier ces réunions au début du mois pour que chacun puisse d'organiser de son côté et bloquer les créneaux prévus.
Le reporting de la semaine passée est très important, autant pour vous que pour votre employé. Il vous permet de suivre en temps réel le travail réalisé par ce dernier, mais aussi de pouvoir le féliciter ou lui donner quelques conseils par exemple. De son côté, il résume ce qu'il a fait et c'est une manière d'auto-évaluer sa performance et de faire ressortir ses difficultés s'il en a eu. 
Organiser plusieurs réunions afterwork, même si ce n'est pas dans un bar !
Les salariés d'une entreprise sont d'autant plus épanouis dans leur travail si l'entreprise met en place des activités sportives, artistiques ou encore festives. C'est pour cette raison qu'il ne faut pas négliger leur bien être au sein de votre équipe et être en mesure de leur proposer des moments d'évasion. Même si vous n'avez pas la possibilité de réunir vos collègues, vous pouvez toujours organiser une visioconférence ou vous parlez d'autre chose que le travail. Par exemple, vous pouvez organiser un atelier cuisine ! La joie et la bonne humeur ne sont-ils pas des moteurs de productivité ?
Ne pas négliger la reconnaissance envers vos employés
N'oubliez surtout pas de remercier et de féliciter vos employés, lorsque c'est légitime bien sûr. Avec tous ces bouleversements d'organisation au travail, ces derniers peuvent se sentir moins suivis, moins en confiance : n'hésitez pas à leur dire qu'ils sont sur la bonne voie et que vous êtes reconnaissants de leur travail.
Si vous constatez des difficultés chez certains, ne vous privez pas des encouragements. C'est toujours agréable de se sentir épaulé et parfois, même les meilleurs en ont besoin. C'est d'autant plus important en télétravail, puisque vous n'avez pas la possibilité de discuter avec chacun à tout moment.
Subscribe our newsletter to get updates