DISCOVER THE WORLD OF TALENT ACQUISITION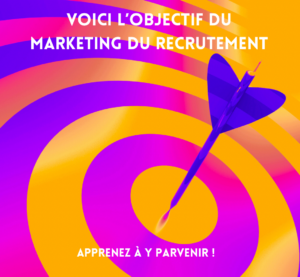 L'association du marketing et du recrutement forme un couple parfait : pour trouver LE candidat, il faut recruter, et pour recruter, il faut mettre en place une stratégie qui a pour objectif d'attirer les profils que l'on recherche. Indirectement, l'entreprise va vers le candidat recherché et celui-ci viendra directement.
Un concept récent
Le marketing du recrutement est devenu une notion essentielle aujourd'hui : avec la digitalisation et les campagnes de communication qu'il est possible de réaliser, une entreprise a toutes les cartes en mains pour trouver la personne qu'elle recherche.

On peut parler de la notion d'

expérience collaborateur

. Selon Séverine Loureiro, c'est "

l'ensemble des émotions ressenties par les collaborateurs quand ils entrent en interaction avec l'entreprise, aux points de contact, et ce tout au long de leur parcours : avant, pendant et après leur passage dans l'entreprise".

Ce concept consiste à donner envie à des candidats de rejoindre l'entreprise : il est donc absolument nécessaire d'être transparent sur les valeurs de l'entreprise, sur son état d'esprit en s'appuyant sur des preuves concrètes, comme par exemple les témoignages d'autres salariés.
Afin de réussir dans votre stratégie, vous devez prendre en compte plusieurs éléments :
Analyser ses

forces

et ses

faiblesses

par rapport au concurrent

Définir les valeurs de la marque et préciser son histoire : c'est

l'identité

de marque

Répondre à la question : pourquoi cette entreprise et pas une autre?

Regrouper tous les

éléments de différenciation

qui donnent une véritable opportunité au candidat

Formuler une

proposition de valeur

, c'est-à-dire définir le positionnement de la marque pour un candidat

Mettre en place des

outils

(digitals) qui appuient la campagne de recrutement
En répondant à ces points, vous allez nécessairement construire une bonne stratégie qui vous permettra de ne pas passer à côté de talents potentiels. 
Ainsi, vous mettez en place un processus de recrutement efficace et ciblé grâce à ces différentes étapes. De plus, vous augmentez la notoriété de la marque sur les réseaux sociaux, puisque vous avez clairement défini son identité.  Cela représente également un énorme gain de temps dans le processus, du fait d'une campagne ciblée et attractive. Enfin, cela va de soi, vous maximisez les chances de trouver le bon candidat ! 
Avec Adison.ai, nous vous conseillons dans la mise en place de votre stratégie et nous vous aidons dans le choix de votre campagne de recrutement. Grâce à l'intelligence artificielle que nous utilisons, le processus est d'autant plus simple et créatif !
Subscribe our newsletter to get updates