DISCOVER THE WORLD OF TALENT ACQUISITION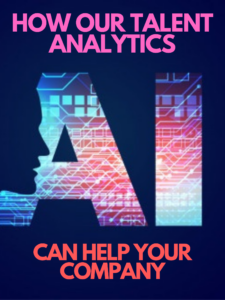 In the world of recruiting, it can be difficult to find the perfect hire for your company. Whether it is lack of skill of the candidate or the high demand for talent in a specific industry, the process can be daunting and unrewarding. As technology continues to innovate, Artificial Intelligence has been used as a resource to match companies with a selection of hirable candidates. Artificial Intelligence recruiting is designed to problem solve and make the hiring process easier, faster and more effective.
          More than 50% of recruiters say that the hardest part of the recruitment process is identifying a potential candidate out of a large talent pool. Programs that use AI can narrow down the your process by identifying groups of people that would be more fit for the job compared to others. There is no bias involved which removes the human error of misjudging a candidate by their age, gender or race.
          We are not trying to remove the human interaction component of the interviewing process! It is important to remember that humans are still hiring humans, and there needs to be a fluid connection in order to create a healthy work environment. Our artificial intelligence software is just a starting off point to get your job AD in front of the right people so that you aren't wasting your time and money. Research has shown that AI software used to recruit saves almost a full day in time (23 hours). That means you can use the time you saved to build foundational relationships with you new hires and see where they fit within your company culture.
            The point of our Artificial Intelligence process is to make the hiring process more effective and more personal. AI recruitment isn't replacing recruiters, but simply making their job more humanized by providing more time for person to person interviews and communication.
            Adison.ai values your companies demand for attracting the right person for the job. Our talent analytics and recruiting software can find, identify and attract talent for your business. Our Talent analytics process identifies the right talent pool using data models that tap into social media behaviors, skills, and interests in order to see if they would be a right fit. Once we find the talent that would be best suited for your company, our social recruiting tools create attractive and engaging advertisements and deliver them to potential candidates through various social media platforms.
            Our goal is to help match you with the RIGHT candidate so that you can save your time and money. Please learn more on our website and contact us with any questions you may have!
Subscribe our newsletter to get updates